Prophecy is a Divine Interruption
People spend much of their lives listening to a narrative about themselves that is often dominated by their perceived deficiencies, failures and pain. The evil one is relentless in his agenda to steal, kill and destroy humans made in the image of God (John 10:10). What he cannot touch with war, genocide and murder he subtly targets with the slow and steady assault against people's minds (Jn. 8:44). He continually plays his broken record of accusation in the ears of his targets; only his song is one of confusion, distraction and deception. He sings his own dark story over people's lives until they're convinced it's the true soundtrack of their existence—and their experience in a world disfigured by sin only confirms his lyrics.
The whole world is familiar with these tunes. It's the only concert everyone has attended.
The beauty of the prophetic is that it can serve to interrupt the concert of Satan playing in people's minds. When God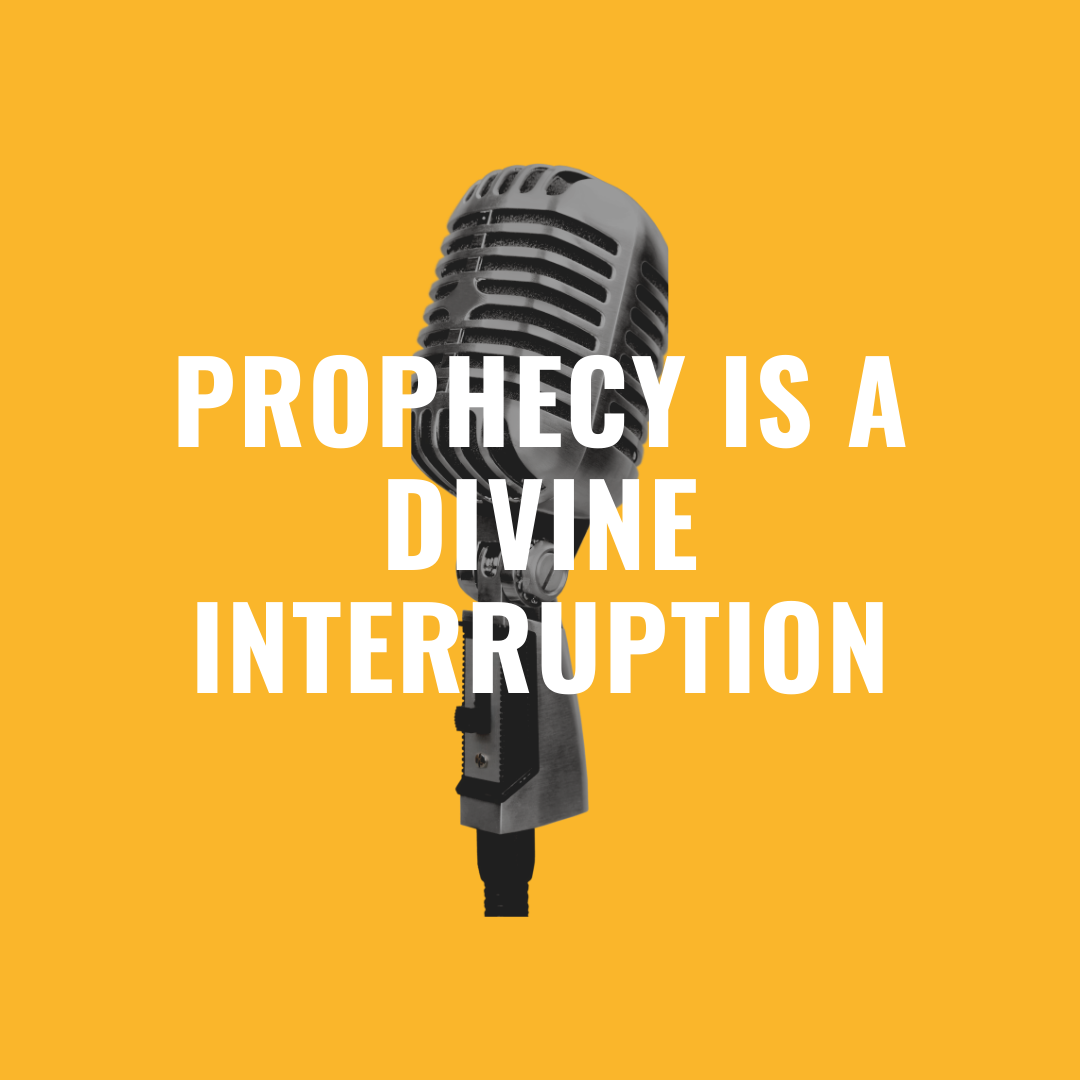 speaks through one of His kids it's as though the Father hits pause on the enemy's track in someone's life and Heaven sings the heart of Jesus over them. Jesus' words cut through the white noise of Satan's lies. His sound carries hope, redemption and healing. This is the heart of true prophecy—the heart of God broadcast for the world to hear.
Revelation 19:11 ESV
The testimony of Jesus is the spirit of prophecy.
Prophecy is a divine interruption.
When God interrupted Abram he was elderly and childless, yet God gave him the identity of a father who's family would bless the nations (Gen. 12:1–9).
When God interrupted Gideon he was literally hiding from his enemy for fear. Yet God gave him the identity of a mighty warrior. (Judges 6).
When God interrupted Manoah she was barren and without a child. Yet God gave her the identity of a mother who's son would save Israel (Judges 13).
When God interrupted Nathaniel, he labelled him a true Israelite in whom there is no deceit (Jn. 1:47).
When God interrupted Peter he was a man who was familiar with fear. Yet God called him the rock on which He would build His Church (Matt. 16:18).
Over and again in scripture we see the prophetic word cutting through labels of brokenness over people's lives with the sure word of Heaven. These beloved ones were not to be defined by the word of their deficient experience in this fallen world, but by the word of the Heavenly Father who obsessively loved them and was working for their highest good.
God is creator; He alone has the authority to assign definition and identity. People are their truest selves when they embrace His word about them. Satan is a liar and a thief. His words enslave people to falsehood. Jesus came to destroy the works of Satan (1 Jn. 3:8). As Jesus-followers we have the joy of joining Him in the destruction of Satan's strongholds over people's minds (2 Cor. 10:3–5). We have the honor of being His instrument to sing the song of His heart over others. We testify of Jesus' heart concerning them—this is the true spirit of prophecy!
Prophecy, Identity & "Original Design"
Prophecy has nuclear affect when it speaks to the heavenly identity of others. For believers it can set them on a course of transformation because it awakens them to the sometimes visible and sometimes hidden grace of God within them; this calls them further into the image of Christ. For unbelievers it confronts them with the reality that there is a God who knows everything about them and loves them enough, even in their mess, to speak His truth over them. Often this is a powerful opportunity for the full gospel to be proclaimed with great affect (1 Cor. 14:24–25).
One of the expressions of the prophetic central to our ministry has been prophesying identity over people. We call this Original Design because in prayer we ask God to give us insight as to some of the unique ways He has designed this individual to represent His glory (Gen. 1:26; Eph. 2:10). We listen and hear and then we speak/prophesy those truths over people. When we ask God about someone's original design we are posturing to hear from Him on things like:
Unique aspects of their personality/wiring that reflects God's glory;

Ways they are designed to give and receive love;

Ways God enjoys communing with them;

Things God absolutely loves about them;

Gifts and abilities that God has given them for His glory;

etc.
We are intentional about prophesying original design because God is serious about identity. We ask God His thoughts about someone because we know He is inclined to speak up on this topic—the record of scripture shows us that is certainly the case.
God has a way of interrupting the soundtrack of Satan and singing His own song over His kids. As His followers, we all get to play a part in His heavenly concert!
1 Corinthians 14:1–3 ESV
Pursue love, and earnestly desire the spiritual gifts, especially that you may prophesy. For one who speaks in a tongue speaks not to men but to God; for no one understands him, but he utters mysteries in the Spirit. On the other hand, the one who prophesies speaks to people for their upbuilding and encouragement and consolation.
John 4:28–30 ESV
So the woman left her water jar and went away into town and said to the people, "Come, see a man who told me all that I ever did. Can this be the Christ?" They went out of the town and were coming to him.
Note: this article has only highlighted one dynamic expression of prophecy and was not intended to offer a comprehensive understanding of the purpose of the prophetic. In my Hearing God & Prophecy eCourse I detail 11 Purposes of Prophetic Revelation.
If this article was a help to you, please share on social media.
If you are hungry for more in-depth training on this topic, check out our Hearing God eCourse.
Play your part in God's song over others. Grow in the prophetic.
ABOUT ADAM
Adam Narciso is the visionary and pioneer of Catalyst Ministries, a training and global outreach mission for the next generation. Since 2009 Adam has trained and mobilized over 40 international evangelism teams and has equipped thousands in the areas of identity, hearing God and evangelism via seminars around the world. Adam has preached the gospel in city campaigns, universities, high schools and bamboo huts in remote villages, all with supernatural effect. Communicating with humor and fresh biblical insight, Adam is a unique prophetic evangelist who equips everyday Jesus-followers to live authentic, New Testament Christianity, discovering their highest joy in the Great Commandment and their unique assignment in the Great Commission.
Adam is author of New Identity: 30 Days of Prayer for Spiritual Transformation and producer of the Gospel Encounters Podcast and the Gospel Encounters eCourse. He and his wife, Jenny, have four children and reside in Franklin, TN.
Adam is ordained through Messenger Fellowship, an international community of leaders, churches and ministries committed to the glory of God.